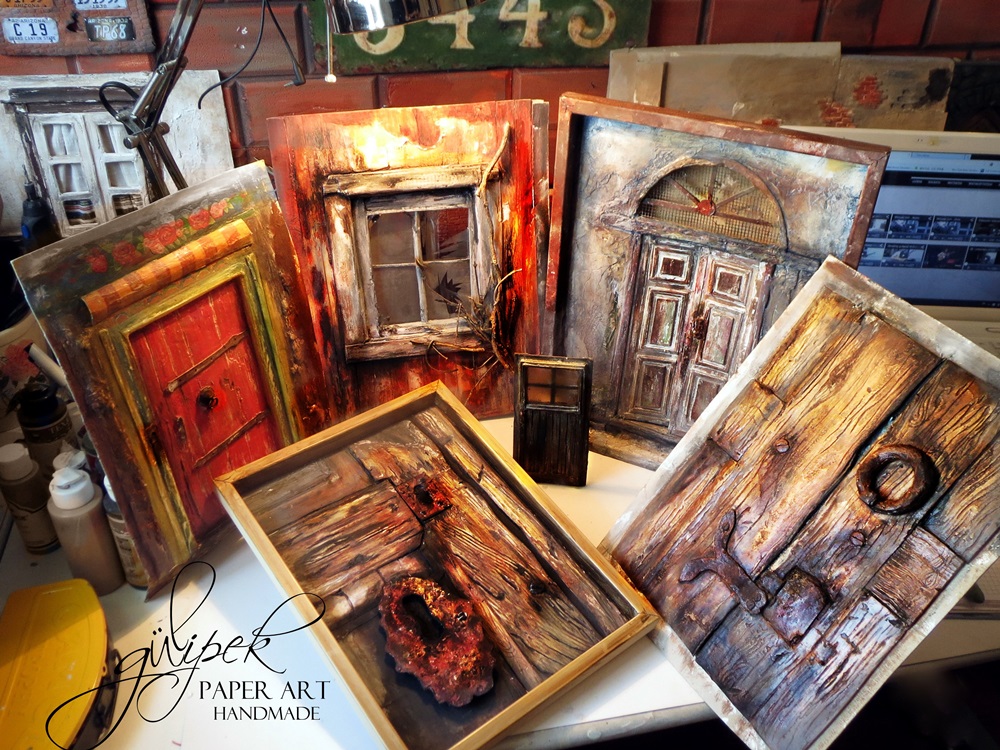 Why Cardboard, Why Waste Paper?
Why Cardboard, Why Waste Paper?
When I was a tiny child, I often visited my grandmother, because I liked it. She was a dressmaker. Although her husband had been dead since very earlyi she never gave up struggling and survived alone. People liked and respected her very much because of her abilities, talents, hard-working and character. She usually worked till the sunrise accepting the voice of Singer Sewing Machine, a revolution in its era, as the most lovely melody for herself.
I was under spell of silky, colourful, flowered fabrics, bobbins, zips, pins, threaders, patterns and the best of all, a roomful of Burda Magazines. For the stylish ladies visiting there, the most important matters were fabricsi designs and fashion. As a little girl, that colourful world never affected me so that it is still a great pain for me to fix the rip.
There was a printhouse behaind the wall which is alsobehind the sewing machine. The smell of the paper, the sound of the printers, which was so rythmic as poem, was very attractive. Being there, watching the printings, touching the paper, especially listening to the story of the paper from the wood to the printhouse, used to take me away from real into a fantasy world. I was very happy with the bound magazines specially for me, special cover and my name printed on it, especially in gold colour.
The paper was so precious in those years. I have not found the answer for the question, "Why paper?" yet, though I was a tiny girl and the fabric was so colourful. In the following years the daily newspapers started inserting cardboard maket kits as promotion. Everyday I got it, cut and stick then had many kinds of them. It was a great pleasure, but it would have been too simple day by day.
I enjoyed the time I spent to them. I still keep them in my heart and mind as special and lovely memories. Later, I was interested in recycled paper. Reusing waste paper was important in protection of wood resources and environment and saving the energy. 3 sq mts of trees are needed to produce a ton of paper. Then making new paper out of waste instead of trees would support the economy and ecology; that is, saving 50% of energy, helping the air-pollution decline by 95% and the most important of all, prevent thousands of trees from destruction. A 20-year-old tree gives 60 kilos of paper. Nevertheless, 140 kilos of cardboard can be made out of 150 kilos of waste paper. Even while I am writing this essay, I am very happy to be to make paper pulp by recycling the tiny pieces of paper remaining after my work.
With recycling, waste paper and dioramas, imagination, patience, creativity, simple ingredients and special painting techniques anyone can make out eco-friendly works. I am allergic to sun and it makes me different. However, the sun is not the only allergenic, the protective substances, glues and even some kinds of paints are allergenic as well. It took plenty of my time even to find non-allergenic adhesive. I use granule coffee to age watercolors on my works. (Yellow room diorama is made only with granule coffee as I rather like frayings.) I never use any chemical and corrosive, actually I cannot. Ageing and fraying is related with the story behind. Nothing would affect me unless it refers to what I have experienced so far, or somebody related to me has. Experiences, true-life stories, ageings, breakings, rips, tears, cobweb, being alone and all similar feelings and thoughts, non-verbally, stands alive on the diorama like filmstrip. I think experiences adds value, deepness and reality because of that, I think.
All my works are in this style and concept as well as they talk about me It is often not necessary for me to experience it personally, such as the cooker stove that was never ours.
First gather the old and used newspaper, calenders etc., then cut them into small pieces. After that, put them into the blender and add water slightli higher than the paper. Then mix them for 3-4 minutes. Finally take the pulp off and filter the water out.
Hint: When the water stops dropping , leave the pulp to dry itself
I will go on providing you with further details, please keep following the site